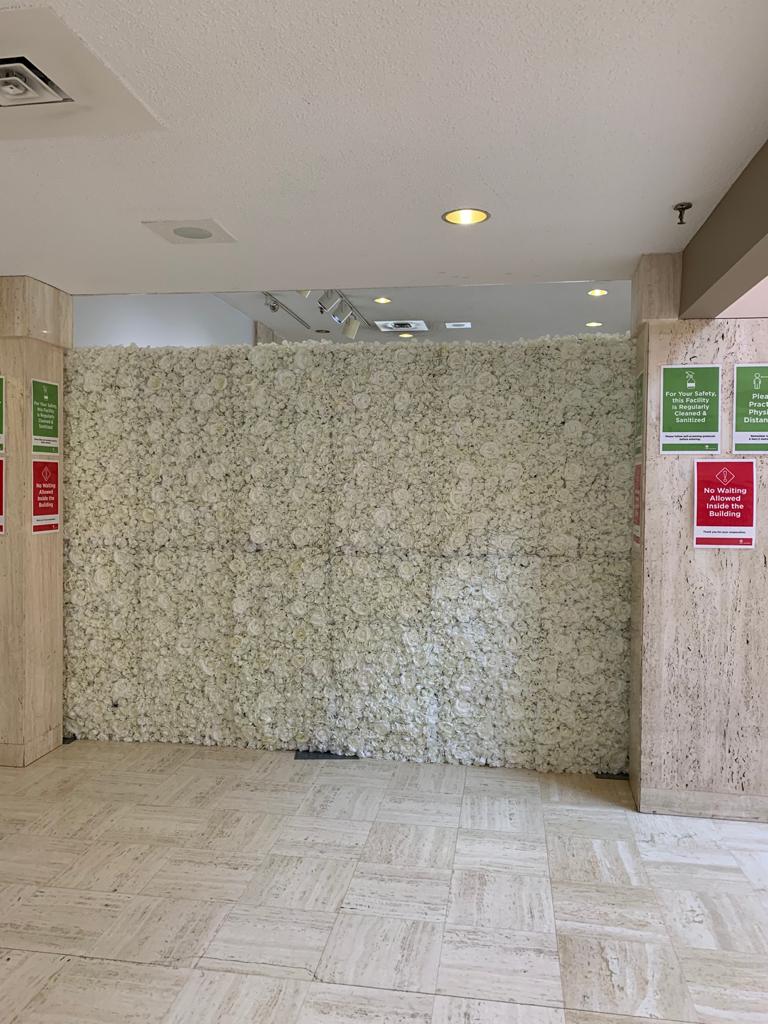 Miami Flower walls have been popular since Kim and Kanye tied the knot in front of a wall of white peonies, roses, and gardenias. And it's easy to see why: a lavish wall installation made entirely of flowers is a stunning way to make a statement during your wedding. A flower wall can be used everywhere: at the ceremony entry, as a stunning backdrop for your vow exchange, as an escort-card display, at the reception behind a delectable dessert spread, or wherever else you want to draw attention to. In any case, we're still enamored with this trend, and we don't see it going away anytime soon. That's why we've compiled a list of our best blooming backdrops to provide you with all the ideas you'll need for your next floral shoot.
If the ceremony and reception are held in the same location, Miami flower wall can function as a backdrop. To begin, have your florist create a towering flower wall as a backdrop for the ceremony; then, during cocktail hour, reverse the area and place your sweetheart table in the same location. Alternatively you can use the flower wall as a backdrop for a photo booth or a selfie station at the reception.
Bride tip:
Miami Flower walls are also a great way to bring the outside indoors, especially if you and your fiancé love Mother Nature but are hosting an indoor celebration.
Why Incorporate Miami's Flower Wall?
A floral wall installation is the perfect accent to any event, regardless of theme or occasion, because it is bright, vibrant, and eye-catching. A flower wall transforms into a photo opportunity that guests can't resist photographing. A well-designed wall can become a venue's focal point! By affixing logos and hashtags to a wall for all guests to see throughout the event, branding can be easily and seamlessly included.
Types of Events to Feature Flower Walls
Product Launches
Press Events
Festival Activations
Film Screenings
Weddings/Private Parties
Flower Wall Design Conceptualization
It's critical to keep the objective of your event and the target audience in mind when creating floral wall designs. If you're preparing a product launch, consider putting up a wall with colours from the product/packaging and the brand's logo to make a powerful first impression. It's also crucial to conduct research and find the highest-quality materials to guarantee that the floral wall backdrops not only make a statement, but also last the duration of the event. That is why you should choose to rent a flower wall from us here in Miami as we offer high quality silk flower walls!
What are Popular Types of Flowers & Greenery to Use in Your Design?
roses – not only do they come in an abundance of colors and are readily available, roses are a sturdy variety
Cymbidium Orchids- a delicate flower with a big effect, these orchids have interesting patterns on their petals and can be used in a flower wall with water picks.
Greenery:
Italian Ruscus – this year-round foliage species is long-lasting and ideal for use as a basis for any flower wall.
Real vs Faux Flowers
The choice of real vs synthetic flowers is a crucial part of making a flower wall. To guarantee that a floral wall looks its best throughout an event, you must consider a number of variables when you begin to create it. The date and environment/venue of an event are the most important elements in deciding whether to use fresh flowers for events or artificial flowers for events. Silk flowers are the way to go if a flower wall will be up for more than one day, as fresh blossoms would quickly fade and not last. Fresh flowers can be used in a wall during an event that lasts only a few hours because they will remain healthy throughout. When it comes to the environment, fresh flowers may gradually droop and possibly die if the event is hosted outside in high temps! In this case, faux flowers are the way to go to ensure that your wall continues to wow visitors.
Rent from us here in Miami we ensure high quality silk flower walls.
Please contact us for availability, pricing or any questions you may have;
Email: flowerwallsusa@gmail.com
Phone No. (855)-759-0249