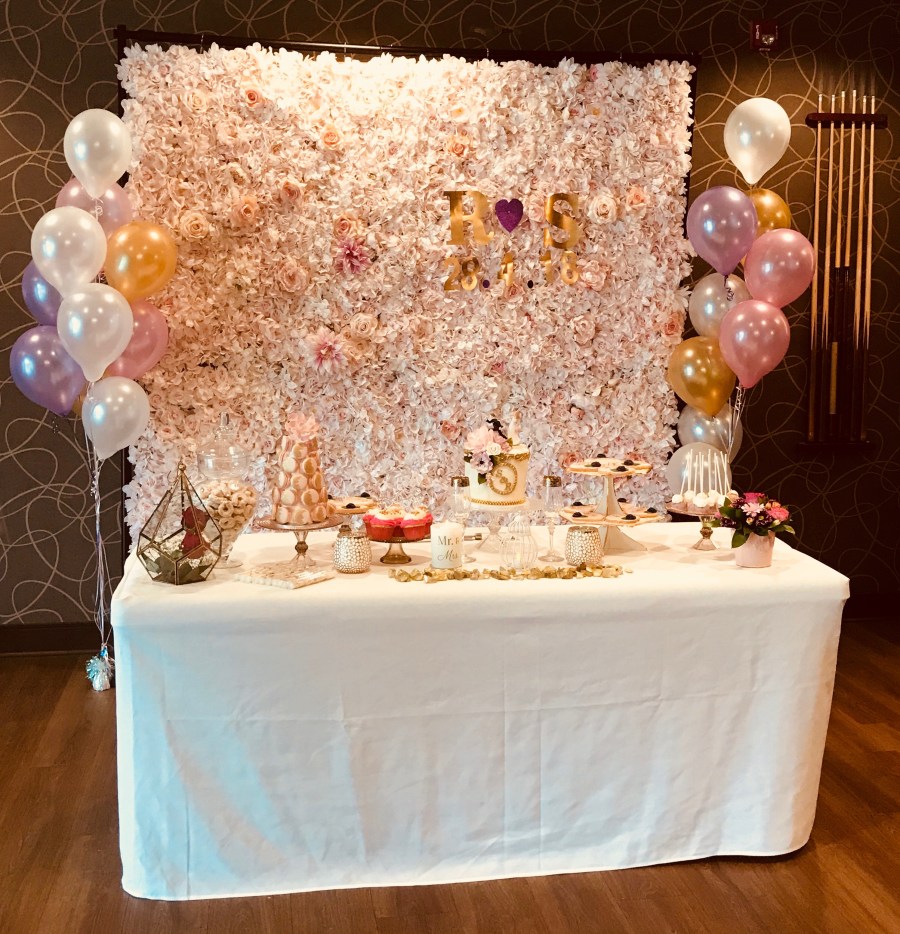 Celebrity Wedding Décor
If you've recently attended a wedding, you've probably seen a flower wall or two. This wedding fad is swiftly sweeping the globe, and for good reason: it's stunning! Don't panic if you're thinking of having a flower wall at your wedding but are worried it'll be too much. On your wedding day, there are a variety of unique ways to construct the flower wall of your dreams. Whether your wall is modern, minimalist, lush or luxe, it'll look beautiful as the backdrop to your special day. To make your flower wall sparkle even more, add a wedding garland or two to create a look that will impress.
There have been an increasing number of inquiries about how to rent a Miami's flower wall after Kim Kardashian and Kanye West were married and everyone saw photographs of their magnificent white wedding floral wall. We offer high-quality custom-made silk flower walls for rent to suit any occasion, whether it's for a private event or a commercial business here in Miami.
Wedding Flower Wall
Miami Flower walls may create a stunning focus point for your wedding photos and even act as the backdrop for your wedding vows.
Miami flower walls made of artificial silk flowers are easy to transport from the ceremony to the reception and can be customized to fit any wedding theme. A floor-to-ceiling display of silk blossoms in your wedding colour palette, or a sleek all-white flower wall with a contrasting monogram to tropical or even a vintage-inspired artificial flower wall, will wow your relatives and friends. Here in Miami we offer a variety of flower walls like a mix of romantic pink roses and green boxwood for a delightfully gorgeous floral backdrop. Artificial moss and grass, as well as gorgeous, brightly coloured real touch flowers, can be used to create a more natural aesthetic with a fascinating, multi-textured aspect. The best thing about a flowery wall is how versatile the concept can be. With the right flowers, foliage, and colours, you can create almost any ambience you want. You may go with a bright tropical flower and greenery wall or an ombre wall made entirely of roses.
Rent Flower Walls for Hotels and Businesses
Miami flower walls make a big statement and can reveal a lot about your company. They evoke a sense of elegance while also bringing a touch of nature indoors. Many hotels, restaurants, and shops are realizing the benefits of having a silk flower wall, as well as the cost savings of using synthetic flowers rather than fresh flowers. walls make a wonderful backdrop for displaying your products in a storefront or in-store. Alternatively, as a luxurious floral display in an entrance hall or dining room. They can be readily cleaned and transported without fear of dropping or crushing blooms, making them ideal for a variety of circumstances.
Rent a flower wall from Miami for fashion shows, celebrations, graduation ceremonies, film sets, pop-up photo booths, window displays, and business grand openings.
Miami flower walls for rent will always make an impression, ensuring that your company or event is remembered. Our customers adore our imitation silk flower walls because they are cost-effective and low-maintenance!
Why Rent Miami's Flower Wall?
Miami flower walls are made with only the finest real touch silk flowers. Before each event, we work closely with our clients to ensure that we understand exactly what you want to portray with your floral display. Our professional floral designers will collaborate with you to design and produce the perfect flower arrangement, whether it's to bring a bit of luxurious glamour to an event or to function as the backdrop to your hotel or products.
Rent from us here in Miami we ensure high quality silk flower walls.
Please contact us for availability, pricing or any questions you may have;
Email: flowerwallsusa@gmail.com
Phone No. (855)-759-0249