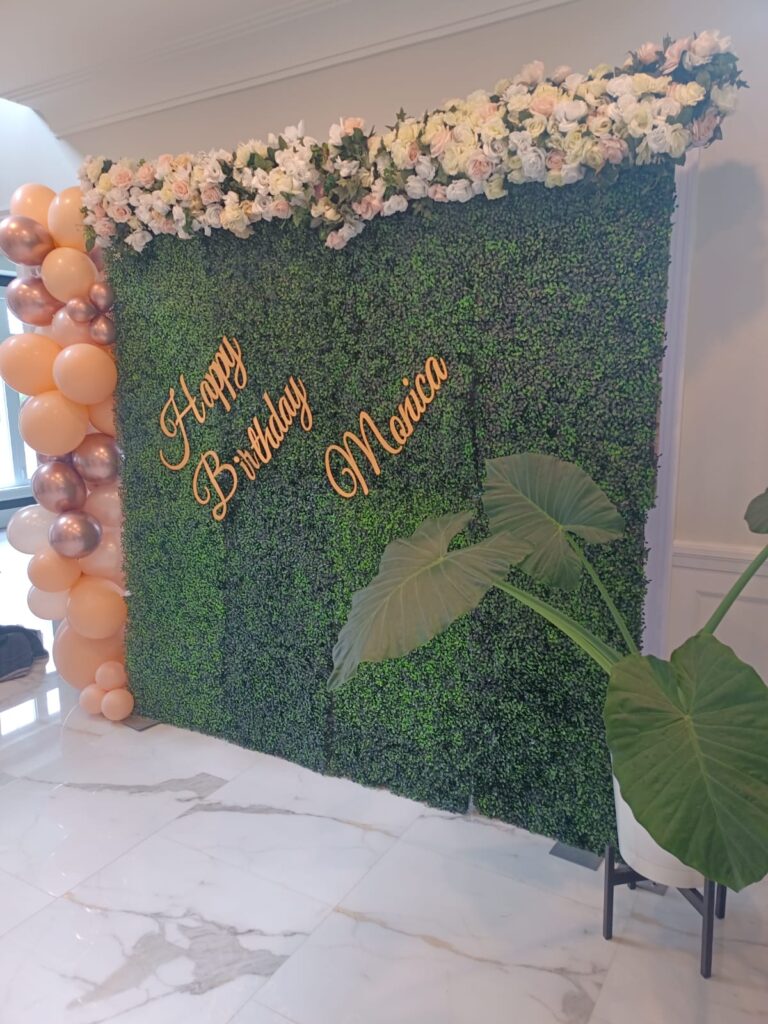 The flower wall in Miami is ideal for putting a wow effect on any event. When planning a personal or commercial event, you want the décor to be vibrant and memorable rather than forgettable. Flower walls in Miami, like any other style of floral arrangement, can be customized to fit your specific color scheme, flower type, and aesthetic preferences. They do, however, provide additional benefits that can be used for any occasion. You didn't know you needed a flower wall until it was too late for your wedding day. It's a gorgeous piece that can add a bit of elegance, playfulness, and sophistication to your big day. This wall can be utilized for any formal occasion, including proms, graduation ceremonies, birthdays, and baby showers, regardless of whether it is your wedding. Many celebrities popularized the concept by posting a plethora of interesting selfies to their floral wall. Kim Kardashian, for example, sparked a trend by employing a magnificent tropical floral wall at the reception during her 2015 wedding ceremony. Since then, the style has grown into a masterpiece of odd color combinations and beautiful flower patterns.
Flower wall
The floral wall in Miami is a great way to bring attention to a certain section of an event or a specific location where you want attendees to pay attention. This could be near the wedding venue's entrance, behind the bridal table during the reception, or as a backdrop for the vows in the ceremony chamber. For a gala, you could place one right inside the entryway or on the event stage. Floral walls draw attention naturally and have the same impact as large, free-standing floral displays without taking up as much area.
The bloom of Miami as a backdrop
The floral wall in Miami can be used as a conversation starter as well as a backdrop for ordinary photos or selfies. This might be a great way to get more fun and fantastic photos to remember your special day, whether taken by a photographer or by your guests, for a more personalized occasion. For a professional event, encourage your attendees to take their own photos and share them on social media so that they may promote your company while also adding spice to your gala or cocktail party.
But wait there's more…
The most appealing aspect of Miami's flowery wall is how adaptable the design is. You can create practically any atmosphere with the correct flowers, greens, and colors. So, a bright tropical flower and foliage wall or an Ombre wall made completely of roses may be a good choice. A green-and-white motif, on the other hand, would be perfect for a sleek modern wedding or a high-end charity gala.
Incorporation
Flowers or plants can give tactile and sculptural touches that add attention to any subject. A floral wall or flower wall, either surrounded by flowers or made by them, can be the perfect spot for your brand or any other information to be displayed in the event décor for corporate gatherings.
If you want to make the perfect flowery wall, you should head to Miami's flower wall. We have the best flower walls to create the atmosphere you want in your venue, from rustic to glam, and we can proportion and position your wall to achieve the best results.
We'll make sure that as soon as the doors open and your guests begin to arrive, all of your décor is in place, magnificent and lovely, so you don't have to worry about anything but having a good time.
We adore bringing our clients' events to life with gorgeous flower décor here in Miami. To make your vision a reality, we put our floral knowledge to work for you. For a free consultation, email us at @flowerwallsusa.com