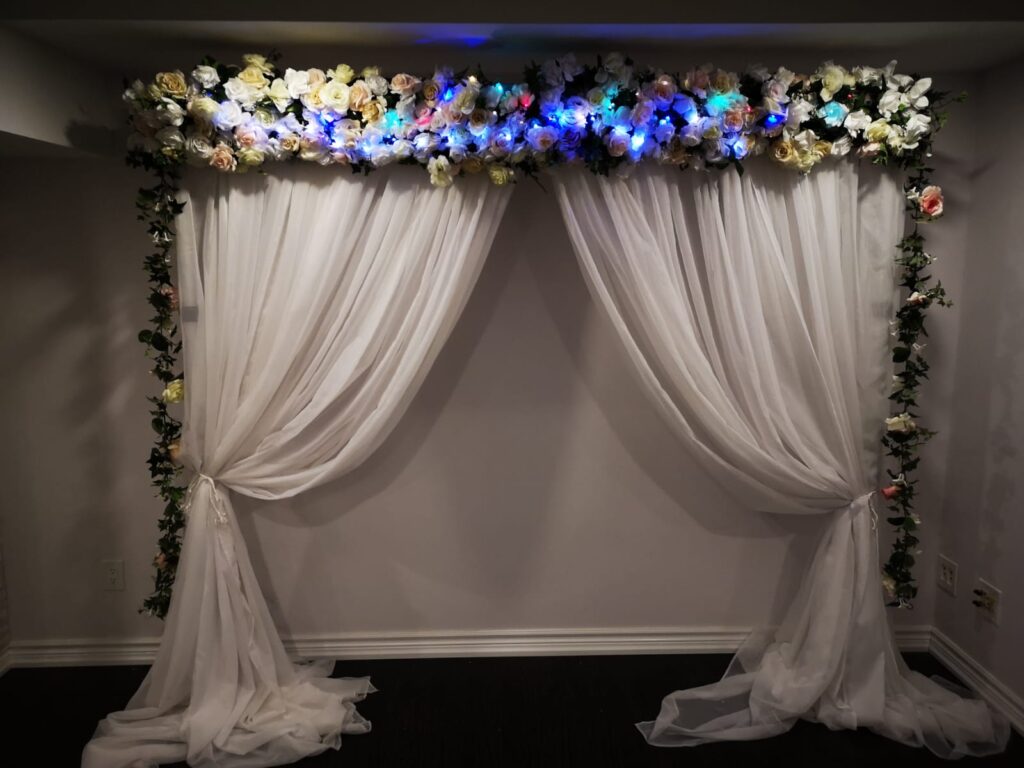 Our flower wall company, located in Miami has many different options and a variety of flower wall colours. Miami Flowers walls provide joy to everyone and add a beautiful splash of colour to any environment. Why not utilise flowers to add texture and beauty to your backdrop? Miami's Flower Walls is the most reputable flower wall rental. We offer a boutique-style service with high-end merchandise. You have the ability to build a gorgeous piece of décor that will compliment your event s with so many alternatives.
 WHITE FLOWER WALL
Would you like to have a perfect mix of vintage elegance and bohemian charm? Miami flower wall company has found the formula to turn any venue into a gorgeous stylish rustic dream! Meet our latest creation – "Rustic Romance" flower wall. Gracefully combined white and cream roses surrounded by several types of blooming peonies are peaking through the sea of gorgeous hydrangea. Accentuated with many intricate details and hundreds of white misty foliage pieces. You have never seen such an unexpected combination of florals that works together so well.
PINK BLUSH FLOWER WALL
Pink is a soothing, pleasant colour that is frequently connected with love. Pink can be delicate or powerful and striking. It's a striking colour. It's a powerful hue. And we are really enamoured with it! That's perhaps why pink has long been one of our most popular floral wall palettes.
Everything from delicate blush and powder to vibrant fuchsia and magenta! In this era, we adore florals. The best part is you can use this flower wall for baby showers! Put together a perfectly color-coordinated display with floral centerpieces, matching desserts, balloons and linens to celebrate your special day. A perfectly planned babyshower is the best way to honor the beautiful mama-to-be's pregnancy journey.
GREEN BOXWOOD FLOWER WALLS
You may not think of green as the one and only color to use when creating a floral design, but The Miami Flower Wall Company dares to disagree! They are also emblematic of good fortune and youth in several regions of the world. Despite this, green flowers are frequently overlooked when selecting blooms for a lovely bouquet, when in fact, they may produce a breathtaking floral arrangement that is suitable for any occasion.
RED ROSE FLOWER WALL
One of our most attractive flower walls for rent is the red rose flower wall. It's a traditional rose and green leaf floral wall with plenty of depth and colour. It shines out at events and attracts a lot of attention for photo opportunities. Ideal for wedding backdrop decor or other event inspiration. This flower wall really adds a Fierce and bold look to the event!
MIXED FLOWER FLOWER WALL
With pinks, yellows, champagne, white, and green foliage, the mixed flower wall provides a gorgeous flower wall backdrop. You're going to adore this floral wall! It's appropriate for formal occasions and sets a warm and friendly tone in the space.
PURPLE FLOWER WALL
Purple tones abound in this purple lavender floral wall rental. It's ideal for renting as a flower backdrop for a bridal shower or wedding. If you're looking for bridal shower decor ideas or wedding decor ideas, this should be on your list!
WHY ARE FLOWER WALLS SO POPULAR?
One of the most popular wedding trends as of late is to go one step further with the floral design, crafting flower walls that are incorporated in a variety of ways throughout the soirée. When we ask brides what they spent the most money on for their celebrations, oftentimes the answer is flowers.
Please contact us for availability, pricing or any questions you may have;
Email: flowerwallsusa@gmail.com
Phone No. (855)-759-0249