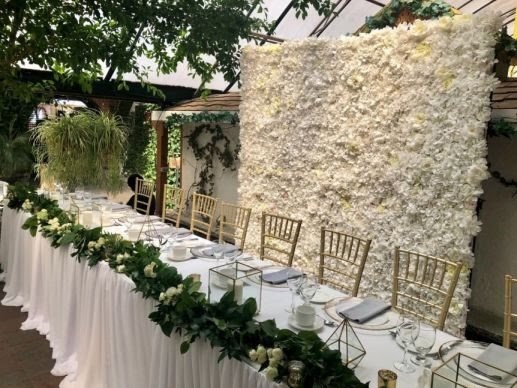 Why is it a must to have floral walls at events!
Flower wall backdrops have soared in popularity ever since Kim Kardashian and Kanye West said, "I do", in front of two gorgeous flower walls. You know, the 20-foot walls full of gorgeous all-white roses, peonies, and tuberose? It is no surprise that this quickly became a trend and 'til this day, is still very popular.
Why consider a Miami flower wall at all?
Miami flower wall becomes a photo opportunity that guests can't resist taking photos in front of. A well-designed wall can become the focal point of a venue! Branding can also easily and seamlessly be incorporated into a wall by affixing logos and hashtags for all guests to see throughout the event.
What we offer
Our services include a variety of flower wall backdrop colours and styles. We rent out flower wall backdrops, which are 8×8 feet and also have wedding flower arches for rent.Our silk flower walls include a mix of hydrangeas, roses, and we also have green boxwood flower wall backdrops to suit any occasion. Our flower arches are great as wedding decor. Our flower arches come with drapes that look beautiful for a wedding ceremony.
Why choose us?
Miami Flower walls, for instance, are stunning—absolutely, but one of those alone could cost $10,000 and up. However, if you rent from us, it would cost $399 + delivery!
Why you should rent floral walls
Miami flower wall is a great way to highlight a particular area of an event where you want guests to focus their attention. For a wedding, this could mean at the entrance to the venue, as a backdrop for the vows in the ceremony space, or behind the bridal table at the reception.
Some options that we have available are:
White flower wall champagne 
Our white flowers can go with any type of event, it is gender neutral and currently the most popular flower a while we have. 
Pink flower walls
Pink flower walls are often used at  wedding party tables, fun photo opportunities or for general event styling purposes.
Green boxwood flower wall
Green boxwood flower wall backdrops are used as wedding decor, bridal shower decor, and baby shower decor
White drapes enchantment flower wall
the white drape enchantment flower wall, many have used it for bridal showers and weddings as flower decor and it works as a    fantastic background for photos.
The Victorian arch
The Victorian Arch is a often placed wherever you'd like to take beautiful shots under this archway. It's our most popular archway and full of pink blush, cream, and white roses with greenery on long garland.
Customization lettering is also available!
Have a birthday coming up???
If so you should definitely think about getting a floral wall. With our floral wall and customization lettering it will put everything together and look absolutely gorgeous! Fill up your empty spots with floral walls. Floral walls will make sure to give you birthday event a elegant and gentle look!
If you must get one flower wall let it be the red roses!
Roses are a popular bloom to incorporate into your floral wall. We use roses for an array of reasons starting with the fact that they come in an abundance of colours. You can create many different patterns and make the wall extremely customizable.
For more information please contact us #(855)-759-0249 OR flowerwallsusa@gmail.com