If you have a formal event coming up, Miami's floral wall is something you should think about. Miami's Flower walls provide a touch of luxury and natural beauty to your event. These are ideal for weddings, birthday parties, graduations, and corporate gatherings and banquets. Keep reading if you're not sure which type to choose or how to fit it into your events exterior and interior.
Here are the top 9 reasons, tips, and tricks on how to match your flower wall to your event and its colour palette.
Why You Should Have It
Consider adding Miami's flower wall to your event if you want to make it stand out even more. It's a lovely accent that can turn an average room into something spectacular and unique. Because of their multi-purpose and distinct style, these are quickly becoming an international phenomenon. Flower walls are ideal for birthdays, graduations, children's parties, proposals, and any other event that needs to be brightened up.
How to Incorporate It
If you're concerned about a lack of floral wall options, keep your worries to yourself. Many individuals are concerned that their floral wall will not match the theme of their celebration. For example, if you're throwing a baby shower with an entire blue/yellow/orange or any other bright colour theme, you might be unsure which wall to get.
Fortunately, there are many various types of flowers, textures, and colours to choose from in Miami. If you're not sure which kind to rent, please do not hesitate to contact us. You can choose from a variety of white, pink, purple, or classic vine green flowers as well as leaves.
Colour Schemes and Mixing
If you don't like any of the premade walls because they don't match your event's colour scheme, you can have one customized. You can create your own wall from the ground up, using whatever materials and flowers you like. The floral wall is frequently the ideal way to connect different parts of an event. Just make sure to order it ahead of time, since these arrangements take time to put together.
It's Size
Make sure you understand what you're dealing with. Although flower walls do not tlake up much room, they make a remarkable effect. Consider where you'll put it, whether it'll look well in that particular spot, and whether your lighting is adequate. For optimum picture quality, make sure your wall is exposed to a lot of natural light or near your ring light. Know that the floral walls at Sage Event are typically 2.2 meters tall and wide. This, on the other hand, can be tailored to your specific requirements. 
Will It Look Real
For years, they have been working with these types of walls and materials. When designing a wall, we will select the best type, the most realistic-looking one, and the best-looking reproduction of the original. So, whether your event is opulent and lavish, or simply stuffy and traditional, know that your flowers and flower wall can complement it. Furthermore, the wall will appear realistic and will meet your expectations.
How to Use It – Wedding Backdrop
You should also know how and where to utilize them because there are so many different kinds, types, and colours to choose from. You could, for example, use a flower wall as a photo backdrop. The guests at the wedding will love this photo backdrop because they can take a lot of shots in it.
Those massive floral arches have become a great hit at weddings. Consider combining them with a large, all-white flower wall. If your wedding will not be held outside and will not feature stunning surroundings (such as a sunset, the sea, or the forest), you should consider a white flower backdrop. It's a large piece of jewelry that might be attractive.
How to Use It – Wedding Table Backdrop
Your wedding table wall can be adjusted to match your colour scheme and the table in front of you at the reception. These walls are usually incredibly romantic and brilliant, making them ideal for photographing. If you don't want a boring background and want to bring attention to the pair, a wedding table wall is a terrific option.
How to Use It – Food Table Backdrop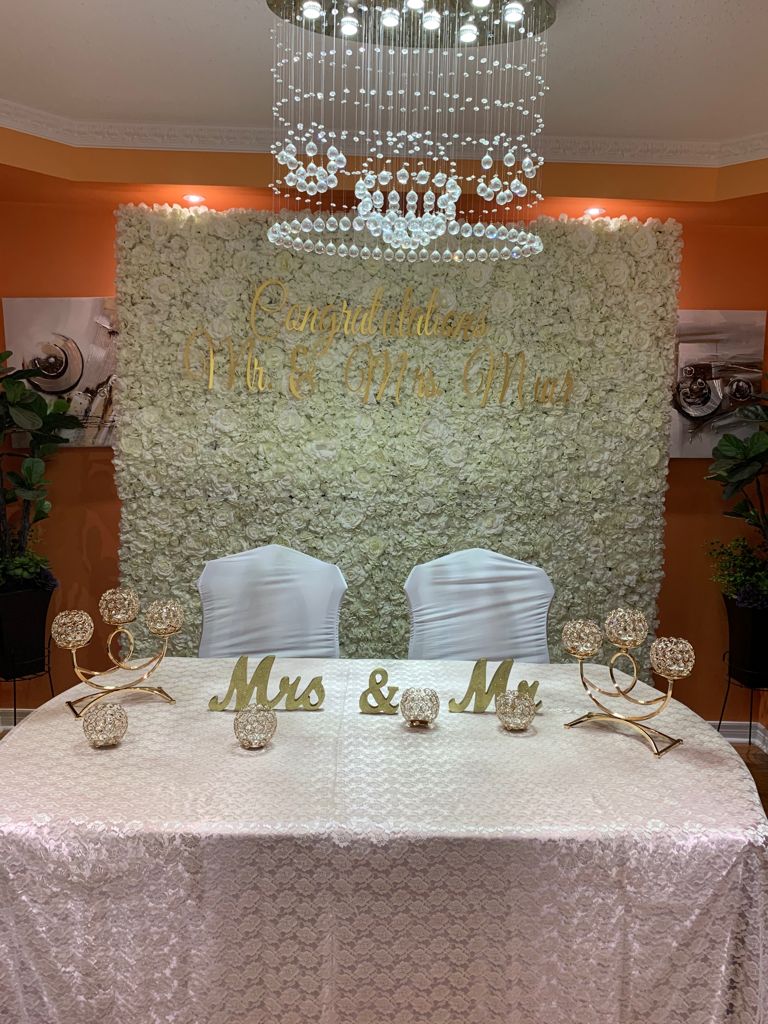 This type is adaptable and simple to set up and utilize. Almost every event has a floral-decorated food or beverage table. These tables, on the other hand, can occasionally appear congested and untidy. That is why a wall background should be used behind the table. Simply position it a few meters away from the table and it will instantly fill the space and breathe new life into it.
Visit our flower wall page @flowerwallsusa.com for additional information and to see some fantastic photo examples.