Kim Kardashian is a leader, whether you like her or not. Her 2015 wedding to Kanye West created one of the biggest wedding design trends: the flower wall. Wherever you use it, the beautiful floral wall provides a focus point. It offers a lovely backdrop for the vow exchange, cake display, or reception table for the wedding party. It is an ideal venue for wedding guests.
Flower walls can be made in whatever size, colour scheme, or theme you like. Kimye's version featured monochrome white blossoms for a glitzy, high-end effect. If your budget isn't quite as big as Kim Kardashian's, try using fewer blossoms or combining flowers with moss or greenery for a similar look. The flowers you choose will affect the entire cost, but there are numerous affordable options we have here in Miami that will have the same impact without blowing your wedding budget!
You might use your Miami floral wall for the ceremony and then have your florist or venue personnel transfer it to the reception site to make the most of it (provided it is nearby). Add a chair or sofa and some decorations, and you've got yourself a selfie station in no time. To add a personal touch, include the bride and groom's monogram.
Want to up the wow-factor of your next big event? Then these flower wall ideas are a fabulous solution. Offering both romance and style, they will certainly make any birthday, anniversary, or wedding feel elevated and unforgettable.
1. ADD A PERSONAL TOUCH WITH DECORATIVE INITIALS
A wedding is an opportunity for the bride and groom to take centre stage without feeling self-conscious. So why not add a personal touch to your decor by encircling your initials in a lovely Miami's floral wall? This gold ornate calligraphy looks fantastic with the fresh roses and foliage. The scene's intensity is heightened by the warm mood lighting.
This isn't just a knot-tying idea. – If you're celebrating a significant birthday – or even a minor one – it's the ideal opportunity to go all out with flower wall ideas. Make the day all about you; you've worked hard for it.
2. GO FOR ALL-GREEN
If you prefer a more pared-back, green look over mountains of flashy blooms, this is the plant for you. If you want a no-hassle, low-maintenance option, your best bet is to go for our silk flower walls. Lucky for you here in Miami we offer high quality silk flower walls. which may also be applied to decorate the house.
3. OPT FOR PARED-BACK ELEGANCE WITH CLIP-TOGETHER DESIGNS
Miami's silk flower walls are a terrific solution if using genuine plants or flowers isn't an option. Not only can you pin them up and down as needed, but they're also a cost-effective solution. The white-hued hydrangea motif adds a gentle texture and plenty of romance to any wall, making it feel like a relaxing cloud. The tiles can be purchased separately and then simply put together, allowing you to go as big or tiny as you choose. it would be perfect for a photo zone or to accent a bar or buffet area for an elegant wedding, baby shower, or birthday party. However, a design like this isn't limited to special occasions.
4. COMBINE BOLD FLORALS WITH SIMPLE STRUCTURES
If a wall feels a little too busy,Miami's flower arches are a charming alternative. When combined with modern metals, the result can be stylish and streamlined rather than frilly.
5. PAIR A PRETTY PINK FLOWER WALL WITH A SWEETS STATION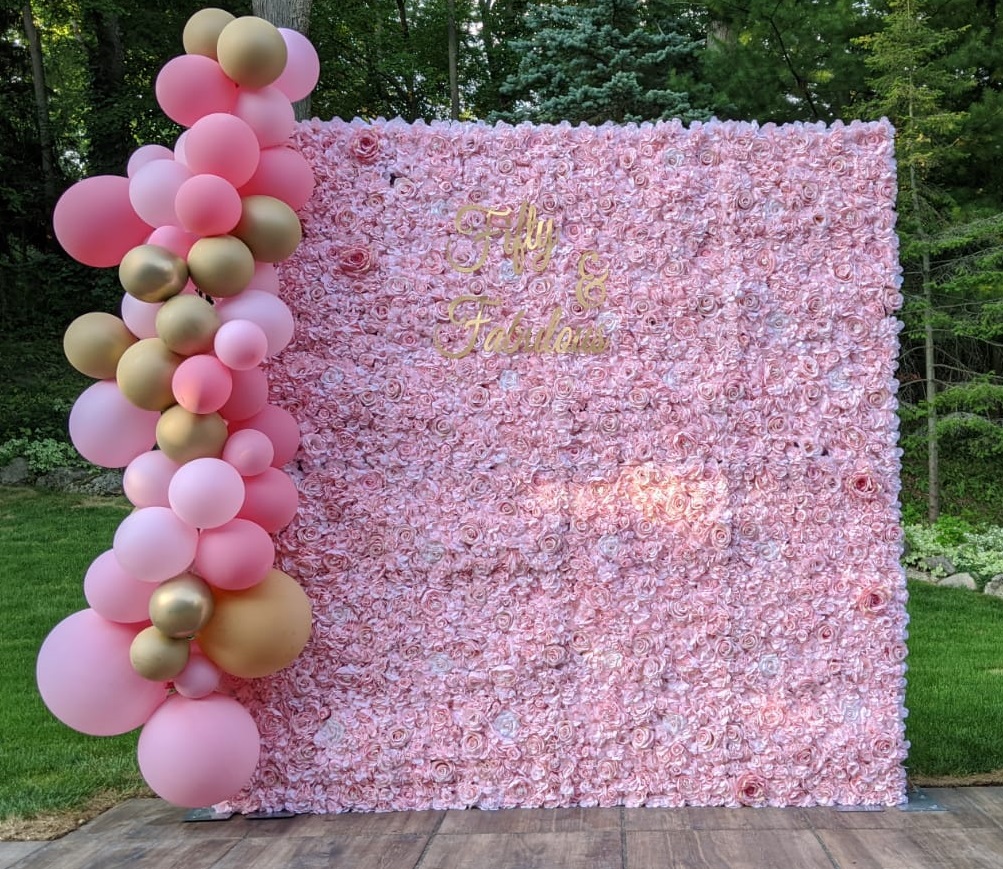 Everyone loves a sweetie station at a party, whether it be pick n mix, donuts, or ice cream. But to give your display an extra tempting twist, why not position a Miami's stunning flower wall behind it?
6. CREATE A JUNGLE VIBE
A jungle theme is always a fantastic choice for a large summer party, and Miami's flower wall ideas can help to add to the atmosphere. For a colourful yet organic effect, a contemporary trellis design is employed to hold orchids and trailing greenery. It'd be a fantastic backdrop for any outdoor bar ideas.
Here in Miami, we love making our clients' events come to life with breathtaking floral décor. We put our floral expertise to work for you to make your vision a reality. Contact us today for a personalized consultation @flowerwallsusa.com