There are so many different elements that go into planning a couples first dance at their wedding reception. The couples first dance as a married couple, it might even be the couples first ever dance together. This is a very special moment in the couples relationship and they want to make it right. They might also be feeling some outside pressure from their family or friends. We have some tips and wedding reception rentals in Arizona to help your first dance be a memorable moment.
Feel The Music
Choosing the song is the most important part of the first dance. The song sets the pace for the speed of the dance. We recommend choosing a song that is important to you as a couple. Consider the songs from your favorite band or singer that you would constantly listen to together. Also, consider using a song from your favorite movie that you would watch together. If you have your mind and heart set on doing a fast paced dance but the best song for your relationship is a slower paced song, don't worry. Start your dance to the slower paced song and enjoy some intimate time with your partner. Then, using a record scratch or fun sound effect, transition into a more fast paced and fun dance. You can either request the DJ at your reception to do so or create your own if you know how.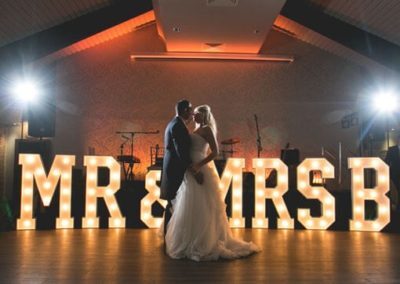 Don't Overthink It
Some couples feel the need to put on a big show when it comes to their first dance. They will create a largely choreographed dance that resembles more of a performance then a genuine moment between 2 people. There is so much pressure on different elements of the wedding, the last thing you want to be doing is adding dance steps on top of that. Just feel the moment with your partner.
Decorate The Dance Floor
The dance floor is where this beautiful moment is going to go down. You should consider decorating the dance floor so it can help add to the moment. One of the best ways to decorate is by using marquee lights. The marquee lights will illuminate the dance floor and create a beautiful backdrop for your first dance. These letters stand at 4 foot tall and are terrific in darker settings. Marquee lights are one of the best wedding reception rentals in Arizona.